November 17th, 2009
One of Melbourne's most artistic neighbourhoods is Fitzroy. You can easily get here by tram which stops at the beginning of Fitzroy's main street, Brunswick St. If you hop off here you can stroll along all the great boutiques and cafes and then hop on again at the end of Brunswick St.
Even if the artistic and creative style of most of the clothing shops isn't your style it still is a great neighbourhood for taking pictures. Also eateries and cafe's like San Churro Chocolates make a visit to Fitzroy completely worth the tram ride. At San Churro all your choclate desires will be answered as they serve all the great things in life under a layer of choclate! You can get a plate of choclate tapas for 18 AUD, belgian pralines or choclate strawberries at 2.50 AUD each.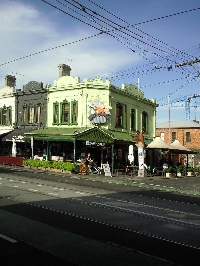 Fitzroy street buildings in..
After a great energy boast at San Churro we got back on Brunswick street. We checked out some great, but not cheap, vintage clothing boutiques and did some people watching from the bohemian benches on our way back.