January 11th, 2010
One of Melbourne's best markets is the Victoria Markets. You can get good fresh fruit and vegetables here but also a lot of souvenirs to bring back home.
The best thing is you can simply hop on the free tourist shuttle to get to the Victoria Markets as the bus stop is in front of the market. You definitely won't be the only one on the free bus so if you prefer having some more space you can always use the public tram which leaves in front of the markets as well.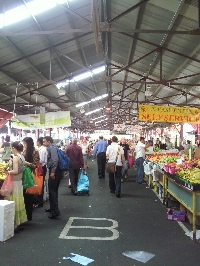 Melbourne markets for fruit..
The Victoria Markets are famous for their fresh fruits and vegetables but do check your wallet before coming here because I ended up paying 3 dollars for just one banana. I probably looked to much like a tourist walking around with my camera..
You can get some great pictures at the market though and that was the main reason I wanted to come here, to capture some of the market frenzie in Melbourne and see business is done.
Adjacent to the market you'll find a kind of shopping centre filled with nice eateries which seemed to be ordered by cultural cuisine. Here you'll find your Indian curry, Italian pizza, Japanese sushi and Turkish kebab in a range of ten meters so a good occassion to tease your taste buds!
Local artists are also drawn to the Victoria Markets and this is a great place to shop for hand made artefacts and paintings. There actually are quite a few painters who work in the markets and will give a demonstration of their work.