January 2nd, 2010
When you´re in Melbourne or Sydney you have to buy your Ugg Boots here if you´re a true shopper. First of all, Ugg Boots are made in Australia so you´re sure the quality is the best. Second, prices are less high because they´re not imported like in Europe or America where you´re likely to pay up to 250 or 300 euro´s a pair.
Be aware of all the fake Ugg Boots in Australia which are sold on every street corner, at the local markets, airports and even in boutiques which make you believe there are authentic.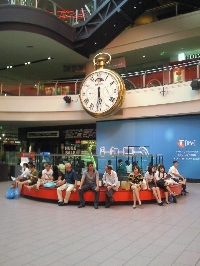 Melbourne Central Shopping..
There´s only one Ugg Logo so be sure it´s written correctly. Also avoid all the B brands like Emu or Kangaroo Uggs because they will make you pay the real price for a fake boot.
There are only two athentic Ugg Boutiques in Australia, one is in Melbourne and one in Sydney.
I recently bought two pairs of Ugg Boots in Melbourne and I paid 300 AUD ( 269 USD )for two pairs plus a protection spray. Normally, in Europe you will pay up to 250 (363 USD) or 300 (436 USD ) euro´s for one pair of Ugg Boots.
Especially now, with the holidays passing, the Ugg Boots will go on sale and you will get great prices. Just head to the Ugg Store in the Melbourne Central Shopping Centre, in front of the big clock on 211 La Trobe Street. The Ugg Store is part of the Apres Coast boutique.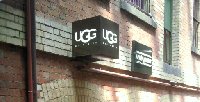 The Ugg Boots on sale in..
Opening hours of the Ugg Store in Melbourne
Monday- Thursday and Saturdays: 10:00 AM - 6:00 PM
Fridays: 10:00 AM - 8:00 PM
Sundays: 11:00 AM - 5:00 PM