March 29th, 2011
Probably the most popular strip of southern Australia, the Great Ocean Road is the jewel of Victoria as it runs from Peterborough and the Port Campbell National Park all the way up to Apollo Bay and Cape Otway in the southern tip of the state.
Cape Otway is a great place, and a bumpy ride, to take a break from your road trip and go and find the wild koalas that hang out in the trees above the street.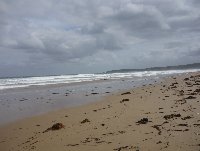 Holiday in Melbourne
From Cape Otway the Great Ocean Road will take you north again in direction of Melbourne or if you're touring from Melbourne the other way around of course.
Nice places to visit on the coast are Lorne and surfers' paradise Torquay, south of Geelong. Lorne has a really relaxing vibe and great beaches and places to grab a bite.
The best thing we did was rent a campervan which helped us tour the Great Ocean Road without having to follow the large groups of tourists which all travel from Melbourne by bus. This way we had more time to hang out in the different places to take pictures and just enjoy the beauty of magical sites like the 12 Apostles and many others.