November 17th, 2009
After visiting Little Italy in Carlton and checking out the bohemian boutiques in Fitroy we wanted to take a look at the Vietnamese shops in Richmond.
We took tram 112 straight from Federation Square in the heart if Melbourne. The tram leaves in front of the train station and heads in direction of Federation Square and will bring you right in the centre of Richmond.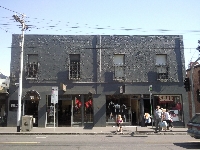 Holiday in Melbourne
From the tram stop you can take another tram leaving from the road crossing towards Victoria St. Victoria St is the Vietnamese heart of Melbourne and as soon as you get off the tram there will be no doubt about that!
From Vietnamese restaurants, video stores, fruit shops, boutiques and take- aways, nothing will remind you of the Melbourne city life just 15 minutes away.
We strolled along Victoria St taking pictures and peeking surprised insides the shops. We ended up having lunch in this great Vietnamese restaurant which served perfect spring rolls and soms abundant portions of prawns with chilli and lemon grass. Besides the great taste of the plates the asian rates will surprise you aswell!
Just be sure to eat before you use the toilet as the place looks way better in the eatery than behind the scenes:)