November 17th, 2009
Melbourne has lots to offer both during the day as late at night. You'll find a lot of young people around Swanston St in the CBD. This main shopping street remains pretty much lit up at night and yellow taxi's line up to catch the first clients as tourists and locals go out for a drink.
Popular places on Swanston St are Cookie, a nice bar to have drink before heading accross the street for a dance at Lounge. Both bars attract a lot of young people and serve good drinks. At Lounge the DJ will play good mixed electro, hip hop and requests untill around 5 am but if you don't feel like dancing you can just take a seat at the tables on the balcony overlooking Swanston St.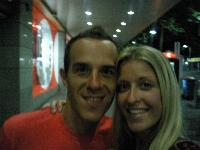 CBD Melbourne at night
You'll find more cafes and late night bars in the alleys that part from Swanston St but the best thing to do is just ask the friendly locals, they know where to send you!
Besides the CBD you'll find a lot of action on South Bank, The Casino and the Melbourne Docklands. While South Bank and The Casino are positioned along the river and require a short walk from the tram stops the Docklands is located at the Melbourne Harbour and trams stop right in front of it.
The Docklands offer a great range of seafood restaurants but Thai, Japanese and Italian are also popular. After your dinner you can get some sweet gelati at Limonetto which is located on the esplanade boardwalk.
Trams will be bring you back home untill around midnight but the best way is to check the schedules at the stops before heading of for dinner.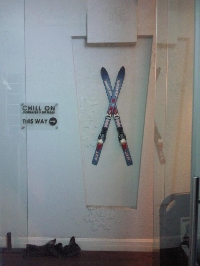 Chill On Bar in Melbourne
While the Docklands look rather sophisticated the Casino is pretty much for anybody and whatever your type of entertainment is changes are high you'll enjoy yourself her. Loads of eateries and different cuisines from Indian to Greek, Italian, Japanese, Thai and fast food joints, ice cream and coffe bars.
Besides eating the Casino houses several bars, night clubs, boutiques and a cinema. Don't worry about their agenda as they are all up till late.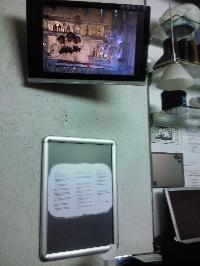 Chill On Ice bar Melbourne
South bank offers the same type of Mod Oz cuisine where no culture seems to have been neglected. On the river there are several bars and the more sophisticated restautants whilst inside the mall you'll find a lot of boutiques and take-aways.
If you're in for something totally different and your tummy has been satisfied there remains one place you simply must visit: The Chill On Ice Bar. This cocktail bar is just magic and a visit to it will stay with you forever.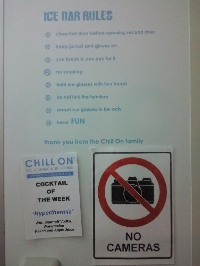 Don't bring your camera!
Chill On is the only bar in Melbourne which is entirely made of ice from the furniture, the decoration, the bar and the glasses used for the cocktails! Even if you'd might want to stay in this bar forever temperatures won't allow you and your stay has a max of 30 minutes to keep you smiling!
Entrance costs 30 AUD ( 40 AUD with a cocktail, 50 AUD with two cocktails and two pictures taking inside the bar as you can't bring your own camera inside ) and include a pair of high fashion UGG boots to keep your toes happy, two pairs of gloves and a thick jacket to get you through the night.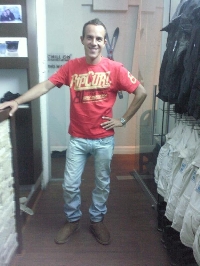 With the UGGs!
We took the two coktails and the photo's and had an amazing time! The music was great, the sculptures amazing and we kept wowing from one corner to the other sipping from our Hyperthermia cocktails!