November 16th, 2009
After a long and gorgeous Great Ocean Road trip we drove up to Geelong and straight on to Melbourne. Everybody told us that either you love Melbourne or you love Sydney but I seriously don't think that theory is valid anno 2009 because I have the biggest expectations of Sydney but O my do we LOVEEEE Melbourne!
At first we wanted to stay maybe three days in Melbourne and than visit Philip Island and the Mornington Peninsula but in the end we ended up staying 5 days not regreting one! There is soooo much to see and do in Melbourne that we really needed the extra time. Not only is the CBD stuffed with the best eateries, restaurants, pubs and shopping boutiques but Melbourne has a number of characteristic neighbourhoods like Fitzroy, Carlton, St Kilda and Richmond which you just have to visit.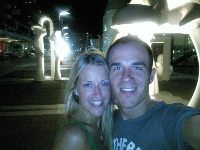 Where to go in Melbourne
Every part of Melbourne can be reached by tram and there is absolutely no need for you to hold on to your car while you're here. Parking is expensive and the publice service is great, they even have a City Circle Tram which runs the whole day, untill 6 pm, for free! This tram stops at every Melbourne highlight like the main centre on Federation Square where you can find heeps of shops and the useful Visitors Centre if you want to plan any trips. Besides Federation Square it takes you along The Docklands, Melbourne's harbour area, along the river, the main parks and the shopping zones. You will be able to get a depliant of the tram schedule and route almost everywhere.
On our first day we decided to go to St Kilda, Melbourne's famous beach town where everybody goes as soon as summer time shines through. St Kilda has a lovely market where you can by all kinds of arts and crafts but if that's not your thing you can go shopping on the main streets a little bit further in the centre. It's a short stroll from all the shops and bars to the beach and you'll find some restaurants and cafe's along the beach esplanade as well.
During our visit to Melbourne the weather was great and eventhough we had some cloudy days before heading to Melbourne we didn't even cath a cloud during our stay. I think we had 5 days of sun sun sun and about 32 degrees everyday!
The only thing we forgot to bring to St Kilda was some towels and our swimmies...Should have tough about that :)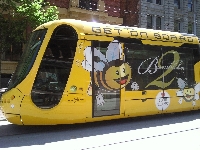 Bee tram
Back in Melbourne by tram, the easiest thing as trams leave at any time and from every point, we strolled around the city centre and decided to grap a bite at the Casino on the river as it was getting late and our hotel on Spencer St was a short walk away.
In the Casino area you'll find everything you could possibly search for at night. For the gamblers there's the casino but the place is also filled with bars, nightclubs, cinema's, restaurants, takeaways and even some boutiques which stay open untill pretty late. Don't expect the Casino to close before 5 am on a weekend night!