November 17th, 2009
Little Italy is one of Melbourne's famous quarters and this is the place where you'll find lots of italian restaurants, shops and home made products. Carlton once was the place where most of the Italian immigrants settled and the restaurants and other shops are mostly kept by their children or other relatives.
Carlton also has some asian and greek influences and in one street you'll find thai, greek and italian food for you to choose from.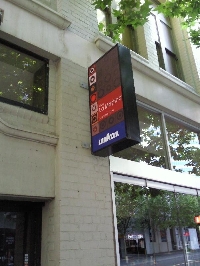 Lavazza caffe
Nova Cinemas is located in the heart of Carlton and if you're lucky you even get to see an italian production. We hopped in at Nova Cinemas in the middle of the afternoon and were lucky enough to catch the release of Genova.
After the movie, around 4 pm the cinema closed and we got back to exploring the rest of Little Italy.
Besides an italian butcher, grocery store and home made pasta shop you will spott some italian souvenir shops filled with cd's of artists like Laura Pausini, Tiziano Ferro and Eros Ramazzotti who in their own country have run slightly out of fashion. We also spotted Giovanni the talking hamster and loads of green, white and red coloured shirts and caps.
At the Little Italy Restaurant we met owner and chef Mr Gentile who was kind enough to offer us a coffee and tell us something about the history of the neighbourhood. He himself was born in Calabria, Italy and moved to Australia somewhat 40 years ago after working all over Italy.
Maybe if you're around Carlton take a look at his restaurant as you won't be served be a lot of tradition italian chefs even if the name of their restaurant promises so.