December 26th, 2009
One of Melbourne's nicest areas's must be beach suburb St Kilda. One of its major draw cards is the Melbourne Luna Park. You won't be able to miss it and its on the esplanade.
The big clowns mouth entrance is easy to spot. Inside there are a few nice rides but the St Kilda luna park looks more like a fun day for the little ones. Fortunately there's no entrance fee so you can easily have a look around inside and make your way to the beach if the marry go round is not your thing!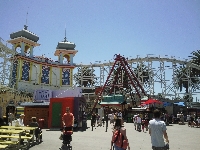 Attractions at the Melbourne..
The Luna Park is close to the Beach and the St Kilda shopping area so you wont get bored. The vibe in St Kilda is very relaxed and you will enjoy a great time on the beach. Lunch is also really good at the restaurants you will find on the esplanade.