March 22nd, 2011
A couple of weeks ago I went to visit my big sis in New York City. I stayed for a total of five days and we had a great time. New York is definately one of my favourite places in the world, after Miami of course:)
Everytime I travel to New York it just feels like a good time and there is just so much life in this city. I can't describe the feeling I get when I walk across Times Square, it just makes you feel alive I guess!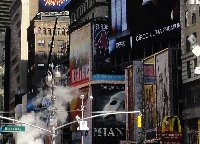 Travel New York
We did a lot of great thing and it was a perfect tourist stay in New York City with day trips to Ellis Island, the Statue of Liberty boat trip, sightseeing in Brooklyn, Harlem and Manhattan, soaking up some culture at the Guggenheim Museum, chilling in Central Park, taking a break at Starbucks and so onnnnnnnn
I love New York and everybody should at least visit this beautiful city once!