January 8th, 2010
I discovered Castel Gandolfo by some of my friends telling me this place was just beautiful. So I decided to visit it and it really is amazing!
There is a restaurant called Pagnanelli that has a beatiful view on the lake and the food is the best food i ever had in Italy.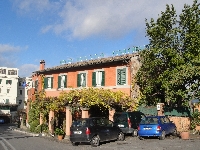 The entrance of Pagnanelli's..
The restaurant has a balcony where you can admire the beauty of the lake of Castel Gandolfo so if you visit Rome during the spring or summer ask for a table there.
The wine at Pagnanelli is also great the have more than 1000 wine bottles and my choice was a Vermentino di Gallura. You can even visit the cantina under the restaurant and during the year there are even many courses where you can learn about cooking italian food, make bread, or even learn how to cook sushi. Such a great place to go!
How to get from rome to Castel Gandolfo:
It's not very easy to get to Castel Gandolfo without a car. Anyway you can take the bus line Cotralspa Roma – Castelgandolfo from the metro line A stop Anagnina (Metro A). So if your hotel is in the center of Rome you need to catch the Metro A, get out at Anagnina Station (is the last stop of the Metro A), then catch from there the bus Cotralspa. The bus drivers don't speak english but that's the fun to be in Italy, and just ask for The lake or lago di Castel Gandolfo in italian. But the effort is worth it!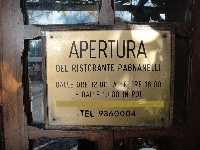 The entrance door sign
If you have a car just go on Appia nuova street (exit n. 23 of G.R.A. - Rome's ring) and follow the Castel Gandolfo – Lago signs.