January 10th, 2010
Lecce in the province of Apulia has one of the most beautiful historic centre's of Southern Italy with the old Roman amphitheatre, the sacred Church of Santa Croce and of course busy Piazza del Duomo. Lecce is famous for its beautifully baroque shaped buildings and referred to as The Florence of the South.
Its difficult to list touristic attractions in this popular city because there is something interesting to find on every corner and the best way to see Lecce is by just walking through the different streets and alley's. There is also a little touristic train which is nice if you're travelling with little kids because they will love a ride on this one.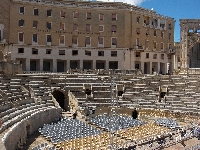 The old Roman Amphitheatre..
During summer a lot of Lecce's streets are filled with market stands selling souvenirs, jewellery and other collectors items. A lot of the vendors are from south america and travel through the southern Italian regions like backpackers with their own hand made products.
If you're not into the markets there are also a lot of nice boutiques and shops in the main streets.