February 24th, 2010
I had been planning a trip to California for quite a while and it had really become one of my dream destinations but before heading there I would first visit some other interesting places withtin the United States.
I started my trip on the Route 66 and visited New Orleans with its passion for jazz music, amazing french quarter and beautiful boats on the Mississippi River. After a few days in New Orleans I headed to the chaotic and energetic city of Las Vegas filled with enormous casino's, bars and clubs.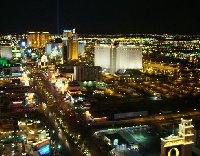 Las Vegas Strip in Nevada.
From the chaotic lifestyle in Las Vegas I headed to the beautiful landscapes of the Zion National Park, the Bryce Canyon National Park, Monument Valley and the Grand Canyon National Park.
I ended my amazing trip in San Francisco and finally got to drive over the Golden Gate Bridge, see the Pacific, walk over Alamo Square and take a ride on the cable cars!
I visited the Yosemite National Park and couldn't leave the States without a visit to Los Angeles and its impressive Hollywood Hills, Beverly Hills Boulevard, Universal Studios and world famous Venice Beach.
I sure can say that my road trip has lived up to my travel dreams and I can't wait to get back to the United States!