February 26th, 2010
I went to Barcelona on a trip organized at my University and we visited a lot of interesting sights like the Sagrada Familia, Park Guell, the house of Gaudi, the stadium and so many other things.
Le people were really friendly and seeing all the street artists was amazing. Walking through the streets of Barcelona you will find all kinds of skilled artists everywhere which is amusing and interesting to see.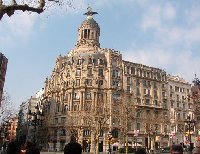 Tourist attractions of..
Especially the Ramblas, Barcelona's main street is one big eye catcher filled with turists and locals going for a relazing stroll.
I think Barcelona is one of the most beautiful cities of Europe and there is so much to do during the day and at night. You will see tourists from all ages and countries who come together in this buzzling melting pot.