March 30th, 2010
Montreal is a beautiful city with friendly people and a beautiful landscape.
Luckily for me my mother is Canadian so we go there at least twice a year to pay a visit to my relatives, especially because my aunt still lives in Montreal.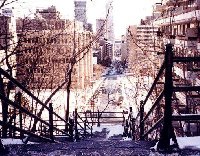 The streets of Montreal in..
Because of the great distance from Europe we always stay a couple of months to spend some time with the family and see some different parts of Canada.
Eventough I've been to Canada a few times now it still feels like the first time everytime I set foot on Canadian soil, I just love this place! The nature is so pure, there's green everywhere and the spaces are just enormous.
To me Montreal is at its best in wintertime when the whole city colours white because of the snow and the Christmas lights lit up the streets and squares, beautiful!
Seeing the kids playing in the snow, creating all kinds of snowmen or chasing each other with snowballs, makes me just want to stay inside with a cup of hot choco and look outside of the window all day.