April 6th, 2010
Wat Bupparam is located on busy Tha Phae Road together with the temples of Mahawan and Wat Chetawan.
Unfortunately as soon as we walked on Tha Phae Road it started raining tropical drops and we decided to do a quick tour around the different wats.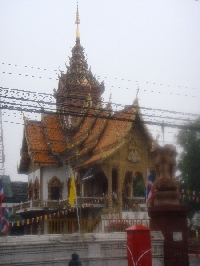 Photos of Wat Bupparam,..
Wat Bupparam has a beautiful white and golden chedi and a decorated temple made of teak and decorated in the old Lanna style. The temple was built by Burmese artisans who immigrated to Chiang Mai.
Luckily there was a market at the beginning of the street where we bought an umbrella and all kinds of souvenirs, the perfect hideaway from the bad weather!