January 14th, 2010
In Chiang Mai we had a great stay and were so happy to have found a good and clean hotel with nice caring owners. We stayed for 5 days in the Chiang Mai Boutique Hotel which was perfectly located in the town centre and close to a lot of nice attractions. The rooms were spotless with great fluffy pillows on the bed and a breakfast table with a view.
During our stay we wanted to visit the Doi Suthep mountain with its impressive monastery. The hotel reception helped us arrange a taxi driver for the day which worked out great. Luckily the driver arrived in a huge jeep because driving up curvy Doi Suthep is not for beginner vehicles.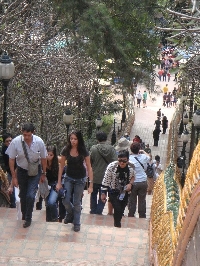 Stairs up to Wat Doi Suthep
We actually spotted some motorcycles trying to get up the mountain but we figured it would take them at least a few hours. Not only the temples are amazing on Doi Suthep but the view is simply to die for. From the temple ground you are able to look out over the city of Chiang Mai which is located in the middle of a mountain and forest wonder land. Beautiful!
Of course we had to share the balcony with another hundred tourists but that was ok. Doi Suthep is a very popular place to visit and tourists do tend to crowd the temples. Close to the balcony you'll find a square with an enormous gong and being a true tourists tradition you can't leave Doi Suthep without taking your picture here.
To enter the Doi Suthep monastery you can either get up the billion stairs which is a pelgrims journey on its own or take the skylift.