February 3rd, 2010
Wat Chiang Man is the oldest temple in Chiang Mai and located on Tha Ratchaphakhinai that runs from the north eastern part of the old city of Chiang Mai to the south. You can visit the temple between 9 am and 5 pm.
The Wat Chiang Man temple has beautiful red, gold and painted murals which are a symbol to decorate the temple and honor its founding father, Phaya Mengrai.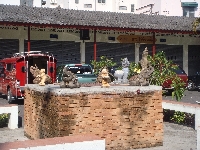 Outside Wat Chiang Man
In the Ubosoth, the most sacred prayer room which in the Northern Thai region is called the sim, you will find two important Buddha statues kept behind bars and in glass cabinets. These Buddha statues known as the Phra Sila, a standing marble Buddha, and the Phra Sae Tang Man, a seated crystal Buddha, have a special value and are believed to have come to Thailand from far away. This main sanctuary is decorated with flower and plant motives and houses a large altar and a group of golden Buddha statues.
You can walk around Wat Chiang Man by following a path in between the main sim and a smaller sanctuary. There is also a Ho Trai, Temple library, and the stupa which was constructed after the city of Chiang Mai and the temple had been completed. The stupa or Chedi Chang Lom is also referred to as the Elephant Chedi for its many decorations in the shape of elephants carrying the golden upper part of the chedi.