January 14th, 2010
A good and inexpensive way to travel in Thailand is by train and especially when you have to travel longer distances the night train is a real invention.
To get from Ayutthaya to Chiang Mai we bought some tickets for the night train. We thought nobody would be getting on that train so we bought the tickets the evening before. Unfortunately the train turned out to be fully booked!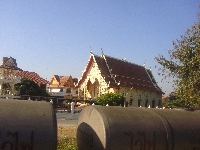 Houses alongside the..
It would be possible to get a third class seating ticket but as soon as we found out what that meant we decided to prolonge our stay in Ayutthaya to be able to get a sleeping cabin the next day. There was no way I would be seating on a wooden bench for an entire night while driving through the rural outback of Thailand!
Once we had purchased the tickets for a sleeping cabin we felt much better and I was quite excited about travelling to Chiang Mai on the night train. The whole journey went really smoothly and we saw some amazing scenery. Sure, you might want to close your eyes on some tracks but you can't appreciate the things you haven't feared first!
Getting off the train was the tricky part as the train doesn't stop at the station but about 300 meters further in the open field! In the end it was a great adventure and the perfect way to say goodbye to Ayutthaya.