June 13th, 2011
This is a tour I would really recommend in Chiang Mai because it will take you through the city by bicycle, a great and especially fun way to do sightseeing.
The Colours of Chiang Mai Bicycle Tour lasts about 4 hours and will take you through the southern part of Chiang Mai visiting the temples and other important sites.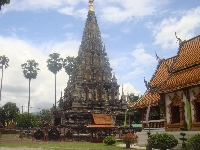 Travel Guide Chiang Mai
I travelled with my wife and we really enjoyed this tour because of the small groups, we were with a total of 6 people making it easy to talk to other people without getting lost in the crowd or not being able to follow the guide.
We cycled along the Ping River and even visited a local bakery to taste some of the specialties of Chiang Mai City. Lunch was also provided so it was a very well arranged tour.