February 3rd, 2010
The temples of Wat Lam Chang and Wat Ban Ping are both located right of Tha Ratchapnakhinai in the eastern part of the old city of Chiang Mai.
These temples might be smaller but have a strong historical value to the city of Chiang Mai. Wat Lam Chang was constructed in the period of King Phaya Mung Rai and is located in an area of the old city where the elephants who once used to transport the king were held. After the contruction of Chiang Mai this wooden area used as a feeding ground for the elephants was turned into a sacred temple ground.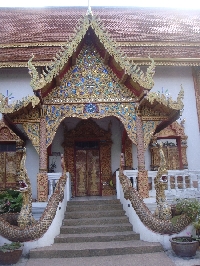 Wat Lam Chang in Chiang Mai
If you take a look around Wat Lam Chang today you will notice several elephant statues and a large elephant statue now formss a symbol of the wat which name literally means Temple of the Tethered Elephants. The remains of the original chedi can still be seen.
Wat Pan Ping suffered a lot of damaged after a fire took hold at the main Vihara a few years ago. Luckily there wasn't much damage to the statues in the sanctuary so the temple could be renovated in 2004. Today Wat Ban Ping, or Wat Pan Ping, is popular with tourists because its proximity to Wat U Mong as both temples are located near Tha Ratchaphakninai.
The temple has been decorated with red and gold dragon statues and beautiful mural paintings on the sides of the Vihara. In the garden behind the temple you will find the old Chedi remains of Wat Pan Ping.