December 31st, 2009
In Chiang Mai, the Night Safari at the Zoo is an all times favourite and we had the best time ever! From the zoo shuttle you will be able to spot the animals in front and some of them even came a little bit too close.
The Safari Shuttle drives you through the zoo late at night when the animals become more active and you can see their natural behaviour. The safari is divided in two different routes, The Savannah Safari with animals whos habitat is the African Savannag like wildebeasts, rhinoceroces, zebra's and giraffes and then there's the Predator's Prowl the carnivorous zone where you'll be cruising alongside tigers,puma's, lions and black bears.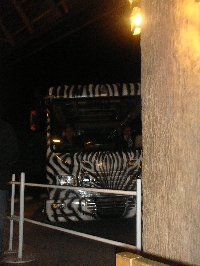 The Night Safari Shuttle in..
Off the shuttle there is a third and walking trail where you actually walk through a habitat called the Swan Lake filled with flower gardens and home to monkey's, jaguars, white tigers, cats and leopards. This path would be the Jaguar Trail Zone.
It's very easy to find your way to the different trails and safari's as you're given a well coloured map of the zoo with all its attractions and facilities.
At a certain point during the safari our shuttle even scared a group of wildebeasts which was just a little bit freightening as the huge animals starting running around the safari bus:)
Driving along it was so cool to spot zebra's, giraffes, rhinoceroces, crocodiles and all sorts of wildlife at night. The Chiang Mai Night Safari is a real must and the best is definitely saved for last because at the exit of the tour you'll get the opportunity to get your picture taken with a baby tiger or puma!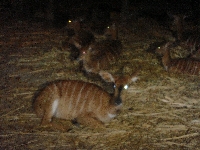 Spotting Wildlife in Chiang..
This experience was so amazing and we had a great time and of course took our pictures with both.