October 4th, 2010
Sydney must be the most impressive and beautiful city in the world and it defintely has the best of a lot of worlds. From the beach to the buzzling nightlife, the great shopping and fine restaurants, there's just so much to see!
After an endless flight we had finally arrived in Australia and eventhough we were so tired we couldn't wait to see all that Sydney had to offer.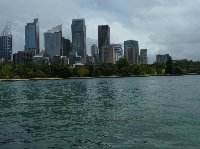 Tourism Sydney
The best thing about Sydney must be the way it's so easy to get around as you can do a lot by foot but also take the skytrain, the bus ( to Bondi Beach) or the ferry if you want to head out to Bronte.
In total we stayed 6 days in Sydney and had booked a room near Hyde Park which turned out to be a great location.
The first day the weather wasn't the best but not considering the cloudy afternoon, we were in paradise!
On our first day we went straight to see the Sydney Opera House, which was pretty cool to see. The best thing to do is probably to enter the Sydney Botanical Gardens and walk all the way along the shore towards the Opera House, this way you get the see this masterpiece and landmark from all its different angles and with the Sydney Harbor Bridge in the background.
To conclude our first afternoon of sightseeing we had some cocktails at a bar around Darling Harbour. Can life get any better?