December 17th, 2010
This year is going to be the best Christmas ever, of course since I will be spending it in Sydney, Australia, right on the beach! Two months ago I arrived in Sydney and I still have one month to spend here so I might as well enjoy a real Aussie Christmas.
Sydney so far has been amazing and I will definately return to this beautiful city. What is not to love? The people, it's just such an interesting mixture of cultures, cuisines and everybody is really open and outgoing.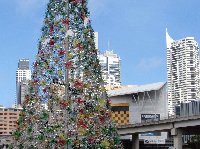 Travel Experience Sydney
The nightlife is awesome with a lot of bars and game rooms which in Sydney don't even seem to close..At the hostel where I'm staying I've met a lot of great guys and we all get along great. We even made a cleaning schedule..
As for Christmas we have planned a BBQ dinner near Bronte Beach, one of the many gorgeous beaches in Sydney and it's going to be my first X-Mas on the beach:) I think we'll be spending the night there as well but plans are never fixed in Syndey so we could just as well celebrate at Bondi or Manly but that's the laid back Aussie way of doing things, I love it!