February 5th, 2010
Darling Harbour is one the nicest parts of Sydney and a great place to escape some of the chaotic city life. You can reach Darling Harbour by bus, ferry or metro but the best and fastest way to get here from the CBD would be by monorail. Just buy a ticket on one of the stations and get out in front of Darling Harbout. Not to worry if you forget to get out because this city skytrain will keep going in circles all day.
Darling Harbour is a waterfront harbour esplanade and park built around Cockle Bay. There are a lot of interesting things to do and see in the Darling Harbour area and the best way to explore the park is by walking accross the Pyrmont Bridge.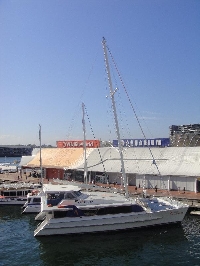 Sydney Wildlifeworld in..
From the Pyrmont Bridge you will have a great look on your left of the Sydney City Sky Tower which stands in between the enourmous skyscrapers of the CBD. From the bridge you will be able to take some nice pictures of the monorail skytrain coming into Darling Harbour with these futuristic structures in the background.
Crossing Pyrmont Bridge you will find the many restaurants around Cockle Bay on your left and the Sydney Acquarium on your right. Passing the acquarium on the right you will be able to have a great panoramic view of Darling Harbour with all the beautiful white boats in the foreground.
The Pyrmont Bridge over Cockle Bay will lead you into Pyrmont where you will find the Sydney Fish Market and the Star City Casino. You will also be able to grab a quick bite or do some shopping at the Harbourside Shopping Centre.
Other attractions include the Australian National Maritime Museum in the northern end of Darling Harbour featuring museum ships including the HMAS Onslow submarine.