February 2nd, 2010
Another great place to go in Sydney would be the eastern suburb of Paddington which runs along popular Oxford Street. Paddington is located 3 kms from the Sydney City centre and you can walk there but you can also decide to take a bus. Most busses leave from Hyde Park and you could take almost every bus passing the park because Oxford Street is one of the most central streets of Sydney.
You could combine a visit to the Paddington Markets on Saturday morning with an afternoon at the beach in Bondi. Just get off the bus in front of the Paddington Uniting Church where the open-air market is held.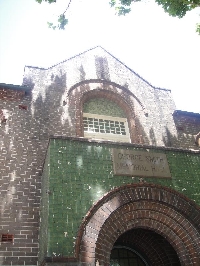 Church Paddington Market
The Paddington Markets are great for vintage and jewelry shopping but you will also find a lot of local produces and art crafts. The number of stalls is enormous and you can easily walk around for an hour or two. If you done shopping on the market try teh boutiques and eateries on Oxford Street.
You could get on the bus to either Sydney centre in one direction or head to Bronte, Bondi or Bondi Junction in the other direction.