March 1st, 2010
My sister and I had talked many times about going on a trip far away from Belgium, where we live, and after some late night conversations we decided to plan a trip to Australia to visit the most beautiful city of the world, Sydney!
The flight from Belgium to Australia seemed endless and we were so tired upon arrival that we rushed to our hotel, took a shower and went straight to bed.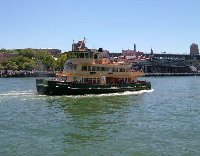 Photos of Sydney, Australia.
The next morning we woke up around eight o' clock in the morning feeling incredible hungry and I realised we hadn't eaten anything for almost a day so we decide to order some room service.
After an amazing breakfast we felt fit enough to discover Sydney. As soon as we got out of the hotel, we stayed at the 4 star Jolly Hotel, we could feel the incredible heat wrapping itself around us. This sure was going to be an exotic holiday!
We decided to go to the zoo which was pretty close to the hotel and to start our sightseeing of Sydney. At the zoo we saw all kinds of animals, some of which I didn't even knew they existed, and of course we had to take our pictures with the koala and kangeroo's, Australia's national symbols.
After our trip at the zoo we visited some museum in the city centre and ended the day with some shopping. There are some impressive shopping centre's in the CBD and you will be able to buy all kinds of stuff. At night we went to this amazing club which had an Italian owner and was really classy.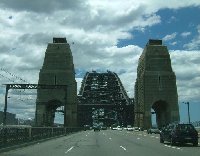 Sydney Harbour Bridge.
The rest of our days in Sydney we spend on the beach, in Bondi, which was really nice eventhough the waves were pretty high. Great for the surfer's but a bit hard to swim around in!