March 1st, 2011
Rio de Janeiro is one of those places you almost can't describe by writing about it and it really is a beautiful city with so many sides to it. Of course you will see the economic contrasts and the favela neighbourhoods spread all over town but there's something about this city that makes it really special.
Maybe it's the people, the weather, the bay or sugerloaf mountain, who knows, I love the vibe that Rio has to offer and I have been there three times now, once for work and twice on a holiday but I will definately visit again.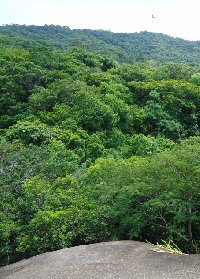 Travel Blog Ilha Grande
Some places to visit and things to do: enjoy a tram ride up the hill, take your picture with Christ the Redeemer, look down from Corcovado and amaze yourself with the view of Rio de Janeiro City, buy tickets for the Sugarloaf cable car, watch a game of Brazilian soccer at Maracanã Stadium or go people watching on Ipanema Boulevard.
If you're looking for a weekend break getaway destination Ilha Grande, a beautiful island off the coast of Rio de Janeiro would be the perfect place to take a trip to.
Besides a relaxing time on the beach Ilha Grande also has a beautiful rainforest and some great snorkeling reefs. You could consider a trip from Rio to Ilha Grande a well deserved holiday from your traveling through Brazilian mainland.