May 11th, 2011
I posted this blog to share this little peace of paradise called Canoa Quebrada with you all! I discovered about Canoa during my internship in Brazil where I worked as a teacher in Fortaleza.
When two of my colleagues invited me for a trip to the beaches of Canoa Quebrada and of course a google later I had packed my bags ready for a break from the city.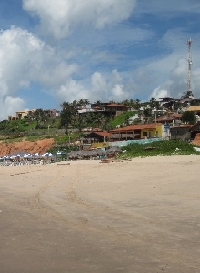 Holiday in Canoa Quebrada
Canoa Quebrada has become a tourist gem in the state of Ceara where it is located and considered the most important place to visit after the city of Fortaleza.
The beaches aren´t the only exciting thing about this exotic place and there are a lot of great activities like surfing, sandboarding, kitesurfing, snorkeling and we even rented a jeep to get around on the beach which was great. A beautiful place to head to in the weekends if you are staying in Fortaleza or around.