November 28th, 2009
The Sydney Tower in Sydney's CBD is one of the main turistic attractions of the city. The Sydney Tower is 309 metres high and gives you that exceptional birds eye over Australia's largest city. The Sydney Tower is also Australia's second tallest building with the highest construction in Queensland.
The Sydney Tower is accessible from Market St, close to Sydney's Hyde Park.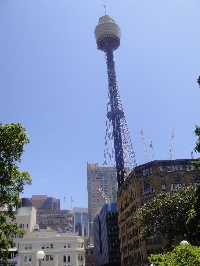 Sydney Tower on Market St
The entrance fee at the Sydney Tower is 25 AUD per person and this will take you up to the skyboard where you can get a 360 degrees panorama over Sydney. There is also a restaurant and a souvenir shop.
You can upgrade this ticket for 40 AUD per person if you want to get on top of the Sydney Tower and do the Sydney Tower Sky Walk with a guided tour. This tour takes you, well harnassed and looking pretty cool, on top of this 309 metres high construction to get the city's best lookout. The Sydney Tower is the highest construction in Sydney and enables you to look over Darling Harbour, Sydney Harbour with the beautiful Sydney Harbour Bridge and amazing Opera House but you can also sea the city's stadiums and parks and peeking through the binoculors you can even see the people walking down the streets!
During the guided walk you will be chained to a board rail that you can move forward as you walk around the platform. The Sydney Tower Sky Walk is a must do attraction and once you're up there the souvenir shop only is just not good enough:)
After the tour you can purchase the pictures takes by a personal photographer during the tour.