November 29th, 2009
Probably Australia's most famous beach, Bondi beach, is a major draw card for Sydney city and every day loads of turists travel down south east to this surfers paradise,
Bondi beach is easily reached by bus and you can buy your tickets at every 7 eleven around town. Buses 333 and 380 leave Hyde Park, outside the Museum train station, every 15 minutes and it will take you about half an hour to get to Bondi.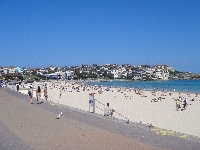 Best Sydney beaches
Bondi is not just about surf and getting a tan, although the bare footed laid back street image may give you that impression :) Bondi is full of nice eateries with something for every taste. In town you'll find streets full of stylish boutiques and shops to stuff up on souvenirs. Late at night Bondi is perfect to dine out as the weather is great, the vibe right and the food pretty good.
While Bondi beach is the east coast's most populair stopover other turists leave for Bronte Beach or Manly Beach ( Nord of Sydney and reaches by bus or ferry) for a more tranquil alternative.
Both at Manly as Bondi you will be able to enjoy some serious surfer skills as surfers come to these beaches from all over the world to show off their moves.
If you go to Bondi make sure to get the bus back to town at one of the towns first stops as the buses tend to overload.. We waited for over an hour as buses just refused to pull over because of the crowded bus stops. So my advise is to walk up to the northern part of the beach and catch not only the bus back, but you might even get a seat!