December 4th, 2009
One of Sydney's biggest indoor attractions must be the Sydney Aquarium and the place has become an even bigger hit since they introduced their magical dugongs. These creatures also known as sea elephants can be seen in certain parts of Australia where the stronger growth of seaweeds occur like for example in Monkey Mia.
You can do sailing cruises to spot the dugongs in the wild but with the introduction of two dugongs to the Sydney City Aquarium you won't even have to leave the city! You get a great look at these amazing animals as they swim around in a huge aquarium completely made out of glass and no this is not always the case..Here you can actually walk through a glass tunnel while the dugongs swim right over your head! You can take great pictures of the lettuce eating dugongs and follow them on their journey through this gorgeous aquarium.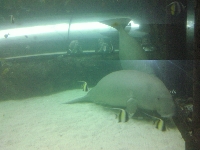 Travel Guide Sydney
Of course you didn't come here just to see the dugongs because the Sydney Aquarium is filled with recreated natural habitats to show off their most interesting wildlife. You can't miss the anxious platypus aquarium on your left just after entering the park. This might be Australia's most curious little animal and seriously people at the aquarium stood still trying to take pictures for over half an hour because it's a weird little creature but it's soo cute and fascinating! It looks like a furry little otter-duck but at the same time it looks like nothing you have ever seen before.
Other great stops at the Sydney Aquarium are the sharks, turles and sting rays which can be viewed from the same glass tunnels so while cathing that perfect picrure you won't miss an angle!
Prices are 35 AUD per adult and about 18 AUD for children. You can also let your picture be taken at the entrance and purchase it later but personally I didn't liked the aquarium photoshop programme skills too much as they try to fit you in the mouth of a shark or cath you while riding a loggerhead turle.. Maybe nice for the futuristic type:)