December 24th, 2009
If you go to Sydney, you can't go past the Sydney Opera House. People stop in groups at this architectual wonder to admire this world famous building and to get a good picture of the entire structure without getting to many fellow travellers on their lense.
The Opera House is told to be inspired by the shapes of a pealed orange and standing in front of it while the sun was ready to set I couldn't quite argue with that as shades of orange and pink covered the bright white tiles. Putting al the pieces of the Opera House back together you'll get a perfectly shaped round ball.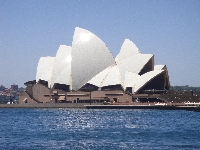 Different angles Sydney..
You can either walk up to the Sydney Opera House from the Circular Quay station and pass all the bars, restaurants and eateries on your way or take the other way through the royal botanical gardens and the Governments House.
Both sides are beautiful but only from the botanical gardens you're able to photograph both the Sydney Harbour Bridge as the Opera House at once. The spot where you can take this photo is known as one of Australia's most photographed locations and changes are high the pictures on your postcards were shot from this point. The royal botanical gardens on their own are worth a visit and they form a more tranquil alternative for turistic and chaotic Circular Quay.