December 4th, 2009
We tried to spot some possums pretty much all over Australia and in a few places we even got lucky but had we only knew there was a place called Hyde Park in Sydney City...Never seen so many possums in one place!
We hired a car from Hertz and chatting to the lady working at the counter about the places we should see in Sydney she told us Hyde Park was a great place for possum spotting. Luckily, we stayed in the Marriot which is practily inside Hyde Park so we had a lot of opportunties to spot the possums.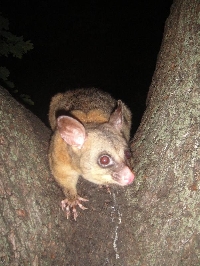 Vacation in Sydney
The best time is dusk or dawn but we spotted groups of them, in front of the Anzac Memorial in the middle of Hyde Park, sitting in the trees late at night. I was surprised how close you can get to these animals without scaring them away or getting yourself hurt. Of course they are possums with fierce nails on their little claws but assuming you don't provoke thm, you will have a great time observing!
We took some great photo's and even got to hand feed them:) The possums are really curious and will get close to you hoping you brought something to eat. My guess is they get fed all the time because they were even a bit picky and only ate the potato chips that looked the best:)
For me the possums at Hyde Park were one of the highlights of our stay because it is something so rare in other big cities and you really enjoy just being around them. Don't forget to bring some nibbles if you're going!