December 30th, 2009
When you´re in Sydney you must try some of the Asian cuisine. Especially the Thai restaurants are of a high culinair standard and are very popular.
A great Thai Restaurant is the Thai Express on 644 George Street in the World Square Shopping Centre. Their menu is modern and refreshing but at the same time their dishes wont lack the traditional Thai ingredients and flavour. The restaurant itself is very classy with modern design. The green curry is really good and so are their starters. Try the spring rolls or the fried shrimps, amazing!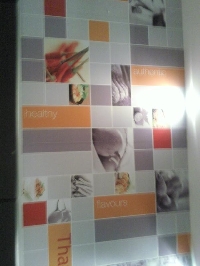 Thai Restaurant in Sydney
Alcoholic drinks aren´t part of the menu at the Thai Express but the juices, shakes, teas and coffees are worth a try!
The food very good and the menu not expensive. Curries, Laksa´s and Rice or Noodel dishes for only 14 AUD.
You can reach the Thai Express entering the World Square Shopping Centre from Liverpool St. The Thai does also home deliveries at a surcharge of 7 AUD per delivery. For take Away and Pick up orders call 0292648995