January 5th, 2010
In the far northern tip of Brazil you'l find the municipio of Ceara-Mirim and the town of Jijoca de Jericoacoara, also called Jeri.
Jijoca de Jericoacoara is famous for its enormous sand dunes and blue lagoons. The beaches is this part of Brazil were once rated within the top 10 most beautiful beaches in the world so definitely a place we had to visit:)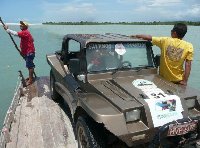 Pictures on the car ferry in..
We rented a jeep in Jericoacoara to get around town and visit the lagoons because some of the road conditions here aren't that good. Some parts of the road actually consist in mull sand from the dunes so the best advise is to get through this area by 4wd.
Jijoca de Jericoacoara is also home to the enormous Sunset Dune where you can see how the sand literally flows over in the ocean. The giant sand dune is right next to the town of Jeri and on its major touristic draw cards.
The contrasts between the green fields,palms and deep blue lagoons agains the whitest sands really do make this place on of the most memorable on earth!