February 2nd, 2010
If you want to escape Sydney's buzzling city life a walk through the Royal Botanical Gardens is a great alternative. Especially on hot days the park is a great place to spend some time in the shades or close to the water.
Teh Royal Botanical Gardens also offer a great view of the Sydney Opera House and people say that it's the most photographed angle by professionals who want a nice picture of this city symbol. Instead of walking along Circular Quay and the ferry dok you would approach the Opera House from the the right where the park meets the water and you can follow a walking path all the way up to the gates of the Opera House.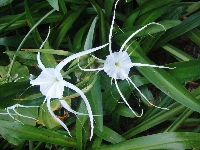 Flowers in Sydney Gardens
The Royal Botanical Gardens are also popular with joggers and locals trying to enjoy the more quiet part of the city. Besides the beautiful flowers and trees you will also spot some wildlife with the curious Australian white Ibis always trying to find something to eat. I also spotted a mother purple swamphen with her little one swimming in one of the little streams. If you're lucky you might even spot some noisy parrots.
The gardens also offer a great panoramic view of Sydney's central business district which is at its best around sunset when the sun shines through the massive skyscrapers and over the parks flowers. Besides the ponds and gardens this area is also home to several art works like the monument in honor of Captain Arthur Philip, the first governor of New South Wales, which was unveiled by Queen Victoria in 1897.
The Royal Botanical Gardens incorporated a gift shop, a cafe, a restaurant, an art gallery and, more practical, a public toilet.