March 25th, 2010
Thailandia has become a very popular travel destination and with exception of the most northern region of the country I can say I've seen every part of it! Its an amazing country with a spectacular capital, Bangkok.
In Bangkok you'll find some of the most amazing temples and statues like the Reclining Buddha which is jaw dropping. From the capital I travelled also to the islands on both sides of the Thai peninsula.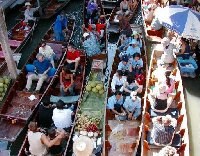 The floating market in..
I wanted to visit both the touristic havens of Ko Samui and Ko Phangan as the more remote and less frequented destinations.
My mother is Thai and a lot of my relatives live in Bangkok so luckily I have no problem with finding a place to stay. When I travel I always part from here and like I said, only the Northern region of Thailand is something I still want to explore.
If you really want to experience the real Thailand then the North is very interesting and you will meet a lot of genuine people. I think in a month you will be able to see most of it.