August 1st, 2011
Our trip in Thailand took me and my wife from Bangkok where we stayed for 5 days to Kanchanburi and Chiang Mai in the norhern part of the country.
Bangkok was really nice and vibrant with beautiful sights and it was very refreshing to visit the northern cities as well because of their more rural landscapes and friendly people.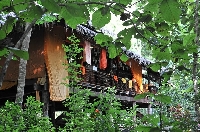 Where to go in Bangkok
We visited a Mon Village on the River Kwai which was an amazing experience to meet the local people and have a look into their lives. The pictures I added are a mix of places we visited between Bangkok and Chiang Mai a trip that we made by train which on its own was a great experience.
In Bangkok we visited temples like Wat Arun, Wat Pho and the temples of the Grand Palace. We also took a boat ride through the city's khlong, or living areas built along the canals. Chinatown was very surprising with its nonstop traffic and endless markets of friend chicken and who knows what else stands along the streets.
Chiang Mai and Kachanaburi were definately more laid back and showed a different part of Thailand. Maybe on our next trip we will also have the opportunity to visited some of the beautiful Thai islands.