February 14th, 2011
Two days ago my husband and I came back from our trip to Bangkok where we stayed for the last to weeks to visit some of my relatives and friends.
We had a great time in Bangkok and since I was born not too far from Bangkok, to me it still feels like my true home!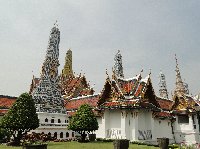 Vacation in Bangkok
February is also a very good time to visit Thailand in general, for both good weather as better prices ( which have come down a lot after the months of December and January).
If you have never been to Bangkok make sure to spend at least three, four days because you will find there's a lot to see, taste and experience. From Bangkok you will be just a flight away from the most stunning islands like Ko Phi Phi or Ko Lanta.