March 29th, 2011
Bangkok has a lot of nice places to visit but one of my favourites is definately the Grand Palace because of its greatness, beautiful temples and serenity.
I have been to Bangkok a few times now, both for work as on a holiday and I always have to return here.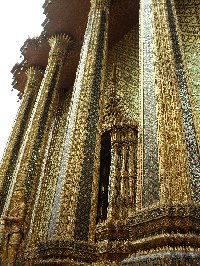 Vacation in Bangkok
I still remember the first time I went to Bangkok and could'nt close my eyes for a second with all that was going on on every street corner.
The colorful motorcycles, the food stalls selling pad thai, the flashy skytrain above my head, smells of spices and fresh flowers; it was love at first sight. Packed with my Lonely Planet travel guide I reached the Grand Palace which obviously is a must visit on your Bangkok what to see list.
At first the people in front of the entrance got me kind of confused when they approached me with their fixed line; today the Grand Palace is closed, come with me.. hmmm in Bangkok not everything is as it seems I discovered and figured out it was a local trick to move you to the next attraction, well not even a trick, it's their job and delivering tourists to the right temple for them means a pay check..so I was forgiving:)
Just make sure not to fall for it and always check for yourself whether any given temple, shop or restaurant is open!
The mosaic art work on the temple walls and all the eye for detail in the Grand Palace area is amazing. In the gallery below I added some of the pictures which I made on my last trip to Thailand, this March.