August 31st, 2010
Together with my sister I have been on a backpacking holiday in Thailand, Laos and Cambodia.
After a 12 hour flight we started our journey in Bangkok, the capital city of Thailand and the gateway for many travellers on a holiday in Asia.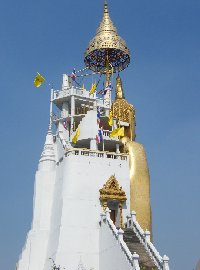 Travel Guide Bangkok
Bangkok is a beautiful city and a perfect mixture between hospitality, chaos, tradition and modern culture.
When you go to Thailand on a holiday this is probably the place where you'll go first as Bangkok is very well connected with both the north of Thailand as the islands to the south.
We stayed in Bangkok for three days and enjoyed it very much. During this mini holiday we went to see tourist attractions like the Grand Palace with its beautiful temples and pagoda's.
From Bangkok we continued our way through Thailand up north and took the train to Ayuttaya, the ancient capital of Thailand and today a popular holiday destination for its temple ruins.