March 8th, 2011
Two weeks ago I came back from an amazing travel journey and together with two very good friends I have travelled through my favourite part of Asia, Southeast Asia.
From London we took our flight to Bangkok, the City of Angels, or as you walk over backpackers paradise street Khao San Road more likely to be called the City that never sleeps!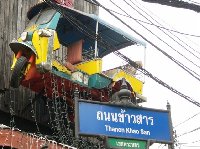 Travel Experience Bangkok
Khao San Road is a curious part of Bangkok but I must say that is has become a little bit to touristic for my taste and I preferred strolling around the temples, local markets in search of some real Thailand memories.
The Golden Mount, or Wat Saket is one of those places where I connected with Bangkok and really felt like I was learning and experiencing Thailand.
After our five days in Bangkok we hopped on the bus to Cambodia where a new adventure was waiting for us across the border!