September 1st, 2010
From Langkawi, in the south of Malaysia, we travelled up north and crossed the border with Thailand.
We headed to the Krabi Province, a popular travel destination on the west coast of southern Thailand and the gateway to a lot of nice beaches and islands.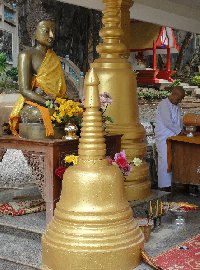 Where to go in Krabi
In Krabi we stayed at the Sunda Beach Resort and our room was really nice with towels hand folded in the shape of an elephant on our beds and fresh flowers at the entrance.
There are a lot of nice things to do in Thailand's Krabi Province and there are a lot of local travel agencies around to help you pick the tours that suit you.
We did several tours in and Krabi and visited the Tiger Cave Temple with it's 1237 steps and large golden Buddha statue, the beautiful blue waters of the Emerald Pool and we also went for an elephant ride.
Our stay in Krabi was relaxing and a lot of fun. All the tours were excellent and well arranged by the local guides. From Krabi we hopped on the ferry to our next destination, Ko Phi Phi Island.