November 7th, 2010
Hua Hin is beautiful beach resort town in Thailand about 200 km south of Bangkok. After a 5 day stay in Bangkok we travelled to Hua Hin by bus which took us little over two hours.
You can also reach Hua Hin by train as there's a direct rail route running from Bangkok to the south of Thailand all the way into Malaysia.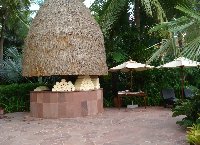 Tours Hua Hin
The ride to Hua Hin wsa comfortable and the driver was friendly enough to tell us more about the Anantara Resort Hotel where we would be staying.
The Anantara Resort Hotel was a great place to stay and a great luxurious treat. Staff was terrific, location even better with an amazing position right on Hua Hin beach, rooms well decorated and the food couldn't be better catered for.
Breakfast was amazing at the Anantara Resort Hotel and I probably gained quite a few pounds from all those pancakes and sandwiches!