January 5th, 2010
The most important tourist attraction in Bangkok is the Grand Palace. This complex of amazing buildings used to be the home of several Thai Kings like King Rama I who reigned the country when the construction of the Grand Palace initiated in 1782.
When you walk through this historic place you can almost feel the importance and the sacredness of the different temples in the Grand Palace. Offerings are brought daily and flowers and gold can be purchased at the entrance of the temple.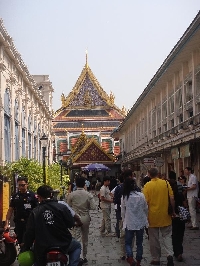 The Grand Palace in Bangkok
Tourists are allowed to take pictures inside the Grand Palace and in case you forget the gift shop in the Grand Palace sells single use camera's and film aswell.
The Grand Palace is open daily from 9.30 am til 3.15 pm and entree tickets costs 300 BHT per person. At the entrance you'll be given long trousers or long silk wrap skirts. Return these on your way back to get your deposit back.
There is a toilet and a restaurant inside the Grand Palace and a tourist map will explain you how to walk through the park.
Some of the amazing temples include The Royal Monastery of the Emerald Buddha, The Dusit Group which consist of the Dusit Maha Prasat Throne Hall and the Amphorn Phimok Pavilion, The Borom Phiman Mansion, The Chakri Group where the Chakri Maha Prasat houses, The Phra Maha Monthian Group which consists in the Audience Hall of Amarindra Winitchai, the Paisal Taksin Hall and the Chakraphat Phiman Hall, several galleries, The Upper Terrace with four main monuments and The Subsidiary Buildings at ground level.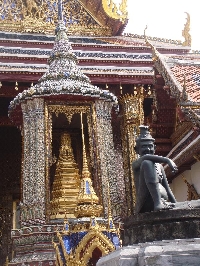 Amazing hand crafted temple..
The four monuments on the Upper Terrace include reliquary in the shape of a golden chedi, the Mondop, a repository for Buddhist sacred scriptures inscribed on palm leaves, a miniature Angkor Wat crafted by the order of King Mongkut and the Royal Pantheon with statues of the past sovereigns.