January 5th, 2010
There are a lot of Chinese people living in Bangkok and a great way to get so see something of the Chinese Temples is to do a walking tour. Just grap a map from a visitors centre or use your Loney Planet.
Bangkok's Chinatown is called Yaowarat and in here you'll find some of the strangest collection of shops, markets and neighbourhoods. There are a million of sois, little streets where you can either get lost or bump into the next tourist attraction.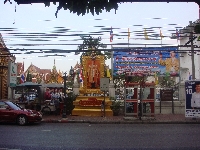 Symbol in honor to the King
Most tuk tuk and taxi drivers will drop you off at Yaowarat Road because they are paid by owner shops on the street. Usually gem stores pay the drivers their fuel if they can bring in tourists so the best thing is to get out of your taxi and walk the rest because he won't drive you any further, unless you pay more.
The Wat Mangkon Kamalawat, or the Dragon Lotus Temple, is a very popular Chinese temple to visit and you'll find all kinds of worshippers here attracted by the Buddhist, Taoist and Confucian shrines. Another attraction woudl be the tall gold Buddha statue of the Wat Traimit build during the glorious days of Sukhothai.
Chinatown also contains an Indian district, called Phahurat and famous for its market where you can get all kinds of Indian hand crafted items, food, souvenirs and clothes. You can get to the Phahurat Market with bus 73.
Phahrat Road is filled with food, clothes and souvenirs stalls and if you're looking for something to bring back home, this is a good place to shop. Prices are low but of course they will charge you more because you're the tourist.