January 5th, 2010
The Mae Nam Chao Phraya river in Bangkok is great tourist attraction and every day thousands of people are guided up and down the river. You can catch the Chao Phraya Express at several piers and cruise in northern or southern direction.
Most northbound boats go as far up as the Tha Nonthaburi pier and in the south the last terminal is likely to be the Tha Sathon, also called Central Pier near the Saphan Taksin Skytrain station. Whenever you feel like getting off just make your way to the exit as the Chao Phraya Express stops at all piers. You can buy your tickets on board for 10-27 bht.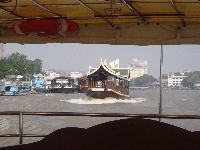 Looking out on the Bangkok..
From the river you have a great view of several important buildings like the Wat Arun on your left if you're heading north and the temples of the Grand Palace on your right. On the shore you'll notice all the little wooden and bamboo houses build on the river which depend heavenly on the water of the river.
Cruising along the Mae Nam Chao Phraya you'll see people washing their clothes or washing their fruit in the same dirty water that comes out of all the motor boats passing by.
You can also hire a longtail boat to make your way over the river and there are even tours by longtail boats arranged by Mit Chao Paya. If you want to hire the entire boat for 1 hour it this will costs you about 700 bht. Rates can be set for an entire boat or per person.