January 5th, 2010
In Bangkok there are several transportation options and depending on your budget, the distances to travel and your personal preferences you can choose to walk, bike, drive or hop on a boat, tuk tuk, sky train, longtail, motor taxi, bus or subway. Have your pick!
First of all the tuk tuk, the invention of a century if you're the adventurous type because these low budget runners whil literally take you anywhere but don't expect them to slow down. Prices for a tuk tuk ride start at a 100 BHT, 50 BHT if you're considered more Thai than the standard tourist hopping on board. Drivers will always try to ask you more and will try to make it difficult to negotiate about the prices. Once you've paid, hold on tight, because you're in for a ride!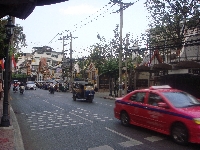 City view of Bangkok traffic
One thing to be very aware of are the drivers who try to trick you in passing a few other destinations first like for example the gem store who's owner just paid Mr. Tuk Tuk's fuel and hopes to get as many tourists in his shops. Just be clear about where you want to go and if you're unsure about the drivers intentions let him know you don't want to make any stopovers in shops to buy souvenirs or other crappy stuff.
Then there's the skytrain! If you ask me, an even better invention. This thing just runs straight through the city without getting stuck in any traffic jam. The views are great and you get to see a lot of the city while heading to you destination. The skytrain, or the rot fai faa in Thai, is the most comfortable way of travelling in Bangkok and saves you a lot of time. There are two main lines which are the Sukhumvit line and the Silom line.
The Silom line runs from the National stadium, near Siam Square to the Saphan Taksin station where you could take the river taxi to the otherside of the river in case you need to go accross. This is probaly the best line to use if you want to see the main tourist attractions.
The city busses look a little frenetic but will take you through Bangkok aswell. There is a difference between air-con busses and those who, anno 2010, run without.. Prices start aroun 10/12 BHT but obviously this depends on where you want to go. Most of the bus line runs from 5 am til 10 or 11 pm but you can also use the all night lines which run from 3 or 4 am til the next morning noon.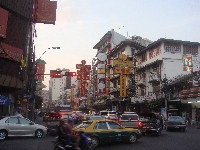 Getting Around Bangkok
Important bus lines are 15 (MBK and Tha Ratchadamnoen which is accessible from Khao San Road), 47 (MBK, Tha Ratchadamnoen and Sanam Luang) and 73 ( MBK shopping centre, Chinatown, Saphan Put to connect to the Chao Phraya Express boat ).
Missed the bus? Grap a taxi, they are everywhere and you won't miss the bright pink, orange, yellow, green and blue cars. Just make sure the driver has a Taxi meter, they all understand this english word because most of them try to give you an estimated price so they won't have to pay taxes. To get somewhere in Bangkok's will cost you about 60 to 80 BHT.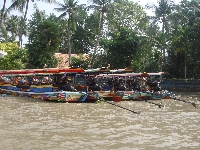 The Longtail boat taxi's
If these taxi´s aren't cool or fast enough you should take a motorcycle taxi in Bangkok. They are cheaper but you do risk losing your life..