January 13th, 2010
During our holiday in Bangkok we stayed at the Hilton Hotel and sure didn't regret our choice. After some of the traveling I did in the world I can still say that the Hilton Hotel in Bangkok has my preference and is without a doubt the best hotel I ever stayed in.
The service is impeccable, their food to good to be true, the rooms beautiful and clean and the location perfect. The Hilton is located on the Phraya River and offers all guests a free shuttle that runs daily to the other side of the river and the skytrain station.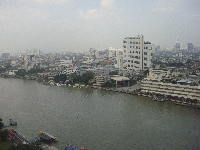 River view from Bangkok..
The shuttle boat runs from early in the morning till late at night and the staff is always smiling and friendly. Having breakfast in the morning was a true delight and the staff prepared a wide range of all kinds of flavours, ingredients and products to suit every guest. You could order all types of bread, pasteries, pancakes, fruit salads, yoghurts, eggs but also main corses were available for breakfast which for us was hard to believe.
The reception can help you book tours, provide you with city maps and advice or call you a taxi. Everything goes smoothly and there is a great respect for the guests of the hotel which isn't the case in all Bangkok hotels.
The location on the river was perfect for sightseeing as we could decide each morning weather we wanted to travel by boat, car or skytrain. Having the skytrain nearby meant saving money on taxi's and being able to get to the other side of town quickly. We spend an evening on Siam Square and just got back to the hotel by skytrain. Beneath the skytrain station the Hilton Hotel shuttle took us back to the other side of the river, which was perfect.
If you want to surprise yourself with a real treat head to the hotels massage salon which is amazing. The girls are so professional and the treatments are great including tea, perfumes and fresh towels. Just be aware thta you'll pay the hilton price for a thai massag which can be four times the normal rate. Thats the only reason why we didnt get in there every day!